Over 250 Pre-Built Report Forms at Your Fingertips with AD FastReporter
AD FastReporter comes pre-loaded with over 250 built-in report forms, covering a wide array of Active Directory attributes and objects. Access and run the reports you need with just a few clicks, and stay on top of your Active Directory environment effortlessly.
Wide Selection of Report Forms
AD FastReporter is packed with over 250 pre-built report forms that cater to a variety of Active Directory attributes and objects. Whatever your reporting needs are, we've got you covered.
Easy Access and Execution
With AD FastReporter, accessing and running reports is a breeze. Just a few clicks, and you have the data you need right in front of you. No hassle, just efficient reporting.
Stay on Top of Your Active Directory Environment
With the comprehensive selection of reports available in AD FastReporter, monitoring your Active Directory environment becomes effortless. Stay informed and proactive in managing your Active Directory.
Explore AD FastReporter's Comprehensive Report Selection
Take a closer look at AD FastReporter's extensive array of pre-built report forms.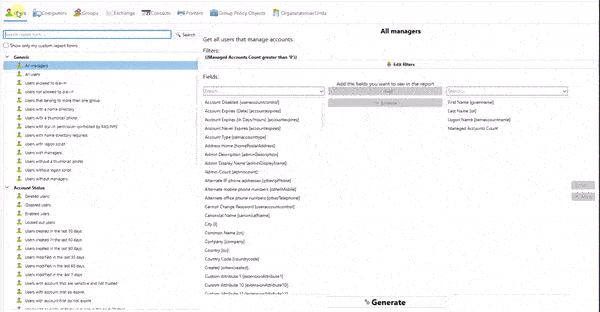 Ready to Simplify Your Active Directory Reporting?
Experience the convenience and versatility of AD FastReporter's extensive report selection. Download the free version or request a trial key to unlock Pro features for 7 days. Make your Active Directory reporting effortless with Albus Bit.
---
Use of this site constitutes acceptance of our Privacy Policy and EULA. Copyright © Albus Bit SIA